Commercial HVAC Service In Mesa, AZ
Commercial HVAC Service in Phoenix, Mesa, Surprise, Arizona, and Surrounding Areas
Commercial HVAC: The Importance Of Proper Care And Installation
Commercial spaces require large and reliable HVAC systems in their daily operations. These must be matched with the needs of the business and installed by competent technicians. Remember that the efficiency and performance of the units will greatly depend on the quality of the workmanship. After installation, Commercial HVAC systems must also undergo regular maintenance to keep them in top shape. Diligence on the part of the owners will be rewarded with the following:
Staff Morale
A mismatched system will not be able to provide air conditioning contractors in Phoenix and adequate cooling to your space. This can be a problem during a, particularly hot summer because the staff will be physically compromised. Try as they might, it will be hard for them to work at their best. The unit might even fail to cause these workers to sweat it out the whole day. Don't let them go through this kind of hardship. Keep the staff morale high by creating a great place to work in.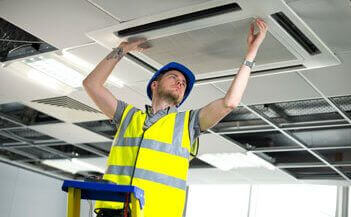 Customer Satisfaction
The staff won't be the only one upset if the AC breaks down. Customers who come in will be unimpressed with the business and may even leave outright without making their planned purchase. They will simply go over to the competitor where they can shop in comfort. Don't let this happen to your business. Always make a good impression on customers by keeping the space clean and comfortable.
Equipment Longevity
A lot of equipment tends to be temperature sensitive. Computers are good examples. They are often required to work all day and they can get pretty hot. Air conditioning allows them to cool down so that they can go at full speed from opening to closing without any glitches in the hardware. The products that require cooling to stay fresh benefit as well. Customers will take notice and appreciate them more. Take care of your business, including air conditioning repair in Phoenix, and your business will take care of you.
Proud to be providing commercial heating & cooling service in Phoenix, Mesa, Surprise, Arizona, and Surrounding Areas! It's our hometown and your comfort is our business. Contact us today.