Pipe Leak In Mesa, Phoenix, Surprise, AZ, and Surrounding Areas
Pesky Leaks Be Gone!
Nobody wants to deal with pesky leaks in their pipes! Leaks can lead to flooding, mold, or a decrease in water pressure, all ending up giving you a massive headache until they are fixed. And leaks can be hard to spot, with many often being elusive to the basic home or business owner. This is where Weather Masters, Inc. comes in – we offer fixes for pipe leaks in Mesa, AZ, and water heater replacement in Phoenix so you can get on with your life. Let us help you get rid of your plumbing headaches!
Mastery Of Our Trade
With decades of experience, we have become masters of our trade. We excel at finding it difficult to spot leaks and diagnosing common plumbing issues to get to the root of the problems. We then have a team of technicians who can execute even the most difficult tasks, fixing different types of pipe leaks in Mesa, AZ, and the surrounding areas. If you are in need of a professional to examine your situation and isolate the different leaks in your pipes, Weather Masters, Inc. is the team for you!
Pump Away Excess Water
The last thing you want is for your sump pump to be in need of repairs when the next big storm begins to flood your basement. Weather Masters, Inc. is on call to help with sump pump repairs and heating services in Phoenix, AZ to protect your home from unnecessary water damage. Sump pumps work by removing water from unwanted areas, so call Weather Masters, Inc. today to ensure that it is ready for the next big storm!
Sewer Repair For Affordable Prices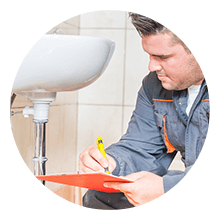 Weather Masters, Inc. also performs sewer repair in Surprise, AZ when you need it the most. We understand the importance of functional plumbing to your basic happiness and comfort, and we believe it is not something that the everyday homeowner should have to worry about. Leave your sewer worries with us as we send a professional to evaluate and repair any issues that may cause future discomfort. We will make sure that you can continue your day-to-day lives without worrying about issues with your sewer!
Reach Out To Weather Masters, Inc. Today
If you need to fix a heating repair Scottsdale and pipe leak in Mesa, AZ, need sump pump repair in Phoenix, AZ, or need sewer repair in Surprise, AZ, Weather Masters, Inc. is equipped to service your needs! We have proven our abilities over years of service, and we are confident that we can help you with whatever your situation requires. Call us today for immediate assistance at (480) 832-9659! Don't wait to bring a professional to help you with your plumbing!
Let's get started on your pipe leak repair project. Call Weather Masters, Inc. or fill out our online form and one of our specialists will get back to you right away. We appreciate the opportunity to earn a 5-star review!