Reverse Osmosis Leak in Mesa, Phoenix, Surprise, AZ, and Surrounding Areas
Filtration Through Reverse Osmosis
Reverse osmosis is a process that filters your water, removing any harmful contaminants to leave you with mineral-rich and uncompromised water. This technology uses a semipermeable membrane to filter out solids and ions but can develop leaks over time. Weather Masters, Inc. can help with this by fixing reverse osmosis leaks in Mesa, AZ! If you have a reverse osmosis system, you will want to make sure it is doing its job, or your water will not be the pure nectar you are used to. Call us today to keep your water clear and water heater replacement Phoenix.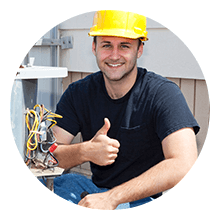 Experience You Can Trust 
Weather Masters, Inc. have been in the business of helping customers with reverse osmosis leaks in Mesa, AZ for years! Founded in 1983, we have been working in the HVAC since the very beginning, building a knowledge base and working with the best technicians in the area. We know how to identify and fix leaks in a way that will not damage your system. Make sure you hire a professional to deal with your reverse osmosis issues!
Recommendations On Installations
When new technologies are introduced, we dedicate ourselves to learning them and adapting our skillset to best serve you. We provide the information you need on the products we trust so you can make an informed and confident choice. Weather Masters, Inc. can offer input and advice on reverse osmosis installations in Surprise, AZ, and heating repair Phoenix so call us for a recommendation. There is a lot of information out there on the topic of water purification, and we can get you all of the relevant and credible sources for you to make the best decision for your individual circumstances.
Trust Us To Solve Your Problems
Reverse osmosis systems are technically complex, so you want to make sure that you are getting the best professional service for your systems. You can trust us to approach your problem with professional expertise and confidence. We will inform you of the steps and complete the repairs in record time, getting your system up and running as soon as possible. There is only one option for reverse osmosis repairs in Phoenix, AZ, so trust us to deliver the quality we have been delivering for years.
Get In Touch For A Consultation
If you have a heating repair Scottsdale and plumbing leak in Mesa, AZ, need reverse osmosis to install in Surprise, AZ, or need a reverse osmosis repair in Phoenix, AZ, Weather Masters, Inc. can work with you to a satisfactory solution! As experts in the field since 1983, we are fully prepared to customize a solution to your unique situation. Call us today for immediate assistance at (480) 832-9659! We dedicate ourselves fully to your complete satisfaction, no matter the need!
Let's get started on your plumbing project. Call Weather Masters, Inc. or fill out our online form and one of our specialists will get back to you right away. We appreciate the opportunity to earn a 5-star review!