Water Softener Leak in Mesa, Surprise, Phoenix, AZ, and Surrounding Areas
Hard Vs. Soft Water
Water softening, or the removal of minerals in water to make it "softer" is becoming more and more popular. Hard water has many materials in it that can become cumbersome, but soft water is more pure and clean for your own uses. The worst part about this is if you develop a water softener leak in Mesa, AZ, you will need someone who knows what they are doing to navigate around your system and fix you up. Weather Masters, Inc. is that solution! We will get you back up and running in no time at all!
Have A Water Softener Issue?
Water softeners can be tricky to diagnose for the untrained eye. Luckily for you, Weather Masters, Inc. has technicians who are well versed in the technology and can isolate water softener leaks in Mesa, AZ in no time at all. We have been in the industry for over 35 years and are confident in our abilities to serve the community. Let us help you by reaching out and explaining your situation. You won't regret it! We are most recommended for water heater replacement Phoenix.
The Best Products And Expertise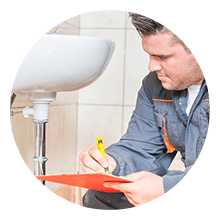 If you need your water softener replaced in Surprise, AZ, Weather Masters, Inc. is able to present several options that may fit your needs. We only use the best products, so you can be sure that working with us will result in your home or business receiving not only the best service but the best hardware, as well. We know that you deserve the best, and we aim for customer satisfaction above all else. Weather Masters, Inc. wants to give you the experience to remember so you will leave with everything that you needed and more!
Experts In Installation
We not only specialize in leaks and replacements, but we will do a full installation if you need a water heating repair in Phoenix, AZ. Stop using hard water today and soften your life with a water softener, which removes minerals from your water to give you the cleanest and purest form. You won't regret switching to soft water! Hire a professional like Weather Masters, Inc. to ensure you get the best service and products on the market.
Call Us Today For Your Soft Water Needs
If you have a water softener leak in Mesa, AZ, need a water softener replacement in Surprise AZ, or need a water softener installed in Phoenix, AZ, Weather Masters, Inc. can help you with your situation! Our technicians have decades of experience in service, so we can help you with your individual needs. Call us today for immediate assistance at (480) 832-9659! We aim to provide a unique and quality customer service experience for your water softener needs!
Let's get started on your water softener project. Call Weather Masters, Inc or fill out our online form and one of our specialists will get back to you right away. We appreciate the opportunity to earn a 5-star review!